Dear Friends, St. John's United Church is opening again for Sunday morning, "in-person Worship", starting August 15 at 10:00am. This "re-opening" has been agreed upon by the Board of St. John's and protocols developed using the guidance documentation from the Government of Ontario and Public Health Ontario. We know that a number of you have been awaiting this day.
These protocols below are based on the primary public directives of physical distancing and wearing of masks/face covering:Please contact the church office each week by calling 613-258-3259 between 9 am Tuesday and 2 pm Thursday, indicating your desired attendance at the following Sunday morning worship
Masks are required indoors
Entrance to the church will be by way of the Reuben Street side entrance
All persons entering the church will be required to read the COVID passive screening poster at the entranceway
An usher will meet you at the door and usher you to your assigned seat
An offering plate will be just inside the sanctuary entrance (north side front)
You are reminded that we must refrain from physical contact
We are not to join in singing
At the conclusion of the Worship Service please remain seated while the ushers direct the exiting of the building starting at the back of the sanctuary, out the front doors (Prescott St.)
Please make your way to the parking lot without stopping at the back of the sanctuary or on the stairs
We do hope that you will enjoy gathering for Worship once again. We trust that you will assist us in trying to ensure our church is welcoming to all, and in the current circumstances, a safe environment for all (COVID free). Thank you, Ron Patterson, Board Chair
We created a link so that you could click and subscribe to our you tube channel where all the services reside. If you have not already subscribed to our channel could you please click on link below and subscribe. https://www.youtube.com/channel/UCiCSQR6NbG9_u7FSY7hrAow?sub_confirmation=1
Normal office hours continue. Call the church number 613-258-3259 to leave a message or email at:
Week of September 20:
Virtual Fellowship every Sunday at 11:30 Simply click on the link in the email which is sent out each week to enjoy connecting with friends over coffee or tea! If you have any questions in advance of our Sunday morning Fellowship, please feel free to call Ron Patterson (613)258-9802, or Cathy Little (613) 258-9799. Looking forward to seeing friendly faces at 11:00 am. Sunday mornings!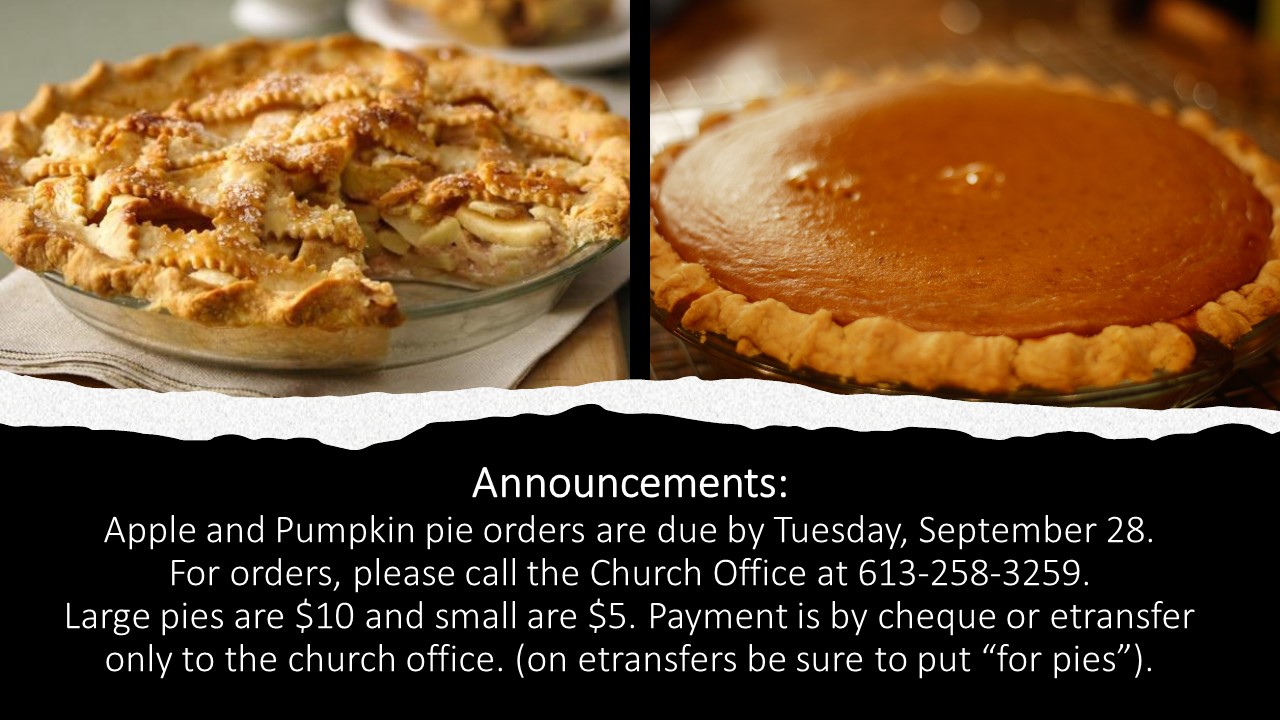 "Listening Ear" - our Worship committee has a list of members who would love to lend a listening ear to anyone who needs to hear a friendly voice over the phone. Please call or email the office so Helen can add you to their list of members who need a call. We also have volunteers willing to deliver groceries.