Dear Friends, At a meeting of the Official Board on Wednesday December 2nd, the decision was made to further delay the ''In Person Sunday Worship'' until January or later, depending on the Covid 19 conditions at the time. We can worship together through our online services which are available on a weekly basis. Thank you. Emile Lajoie, Board Chair, St. John's United Church
Please see all our online services down below.
Normal office hours continue. Call the church number 613-258-3259 to leave a message or email at:
Week of March 7:
Our sincere sympathy is extended to Jean-Jacques and Barbara Rousseau on the death of his sister Lorraine. May God bless those who mourn.
We are all missing our St. John's friends and our after service coffee time. Everyone receiving the email will be invited to attend our weekly Virtual Fellowship every Sunday from 11:00-11:40 am. Simply click on the link in the email which is sent on Friday and enjoy connecting with friends over coffee or tea! If you have any questions in advance of our Sunday morning Fellowship, please feel free to call Ron Patterson (613)258-9802, or Cathy Little (613) 258-9799. Looking forward to seeing friendly faces at 11:00 am. Sunday mornings!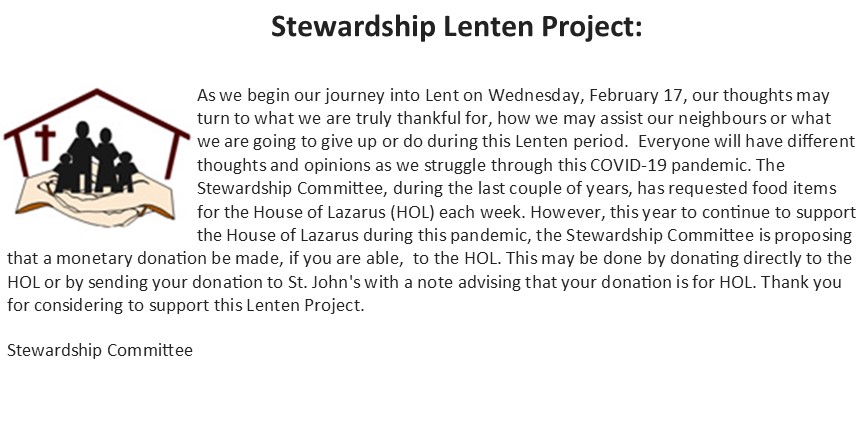 Click on this link to download a Lenten Calendar: 2021 Lenten Calendar
Bells continue to ring for Frontline workers in North Grenville at 5:30 pm on Monday nights!! Helen needs more volunteers to continue this ringing!
"Listening Ear" - our Worship committee has a list of members who would love to lend a listening ear to anyone who needs to hear a friendly voice over the phone. Please call or email the office so Helen can add you to their list of members who need a call. We also have volunteers willing to deliver groceries.